2011-10-07.
! A HÍRHÁTTÉR MULTIMÉDIA !

[Elküldve Szaúd-Arábia magyar stb. szerveinek, Budapest összes rendőrkapitányságának, rengeteg magyar és külföldi igazságügyi szervnek, a miniszterelnököknek, számos külföldi diplomáciai képviseletnek, több tucat országgyűlési képviselőnek, médiumok tömegeinek, belföldi és külföldi polgári és katonai titkosszolgálatoknak stb.]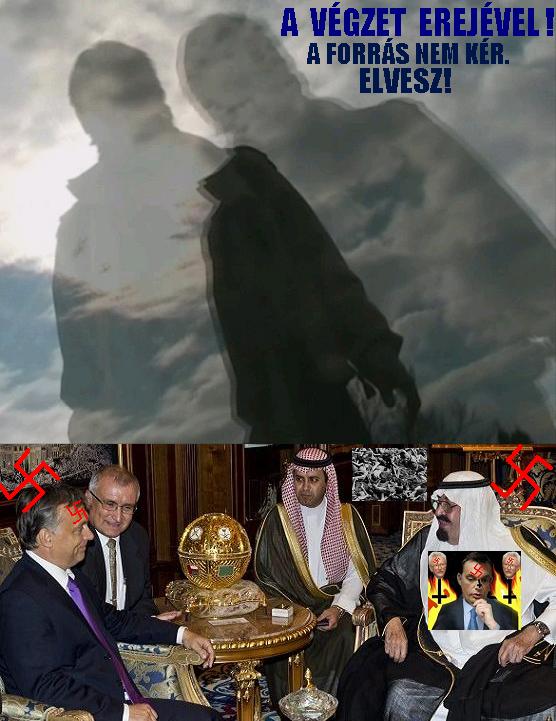 Letter to the saudi-arabian king and secret agencies from the paramount Echelon Witnesses of the World and most ridden journalists from Hungary! Knowing the reactions against humanity furthermore to be taken as an accusation!
1. Is it true that the saudi king Abdullah bin Abd al-Azíz Al Saud and the hungarian prime minister Viktor Orbán took responsibility for the persecution of journalists and support of extensive cenzorship of the press in each others country?

2. Is is true that the saudi king (whose family dominates the people of Saudi Arabia in despotism since 1932, naming them after their clan) gave Viktor Orbán hungarian terrorist and mass murderer prime minister collateral smothering up the outrage against civilian and military aircrafts (Hercules, Air France 447, Delta Northwest, Jemen Air, Kaczyński), sistematically persecuting the discoverers, as far as possible to murder them?

3. Is there any further framework contracts drawn for future elimination of civil and military aircrafts (it is impossible to negotiate without the realization of any frame contracts.)?

4. What kind of further arrangements does the terrorist Saudi king plan (whose country doesn't have a constitution, nor democratic elections) related to killing hungarian scintists, researchers and inventors according to the royal practices? Eliminating hungarian scientists on the eve of putting alternative energy sources discovered by them on the global market had the royal mafia clan and the terrorist mass murderer king commanding, another time coordinating and executing role. It is commonly understood and from the press well-known that any time when a low scale hungarian innovation is introduced - which is a small step towards sustainable energy source application - a magnate from the king shows up not asking financial favors but shows sneaking broad laughing interest, what's it about, and asking the inventors to introduce their innovation to the public.The malicious intention is caught always in the act, like Viktor Orbán, more than any other prime minister before is carrying on a determined war against any scientific research and revealing the facts (where HÍRHÁTTÉR has a paramount role) serving mankind; trying to conceal, break down, to ban, smother up and hunt down every community and force protecting mankind. How does the saudi king dare to assist to such a thing, enter into an alliance with Satan? HOW DID YOU DARE!!!

5. Has the saudi king Abdullah bin Abd al-Azíz Al Saud abandoned the plan which has not hit the press but yet is public - that is to blow up an israeli El -Al jet? If he has abandoned it for now, why has he and for how long; if he is still planning on it then he should tell us about the details.

6. What is the reason, that the most notorious terrorist country in the world, Saudi Arabia, where Osama bin Laden and his fellow terrorist leaders come from, and where after 911 they kept setting up the movement in the shelter of the king and his companion, this very Saudi Arabia wasn't attacked by the US and its system overthrown (although it's the most Christian-pursuing country), this fascist terrorist Ceausescu state where masses of women are sentenced to death was thanked by the US on 911 for rescuing silently the royal family and envoys. When it is proved that Saudi Arabia was determining in organizing the 2001 attacks, how come Iraq was overthown but the organising and paying amero Saudi Arabia remained untouched, and is planning longterm fascist political and economical maffiaalliance with the mass murderer terrorist politician who will be facing one of the biggest downfalls in history, hungarian prime minister Viktor Orbán , the one who had done the same with Egypt a day before the explosion of the panarabic revolution.

7. What is the opinion of the king of Saudi Arabia from our plans, according to which - seeing the lethal freezing of the ancient fossils of Sodoma and its demented self-destructive rampage, joining against every unavoidable - we would like to realize the now regnating political leaders who are against humanity and their family to be accomodated, debriefed and mapped for the reason of their act, their terrorist connection systems and motivations, extending Guantamo worldwide once again, including the christian-persecuting fascist, antifeminine, mass murderer, jet detonating terrorist regime' s king of Saudi Arabia, and its bin laden family!

8. How is the leadership of the US and the CIA attached in organizing the meeting between the notorius terrorist mass murderer hungarian prime minister, Viktor Orbán and the saudi king, and what specific role did he get in Barack Obama and the CIA's worldwide jet exploding's cover-up, and the intention to pursuit the ones who try to reveal the facts about it. We find it impossible that this meeting between the hungarian prime minister and the saudi king could be held without the authority and organizing of Barack Obama, Leon Panetta and David Petraeus CIA executives in such a world crisis, which only the population doesn't know. When everybody knows, only the population is excluded, that historys biggest cultural and civilization bomb is to be detonated anytime.

9. How is it possible, that the in every major aspect paramount facts revealing regnating HÍRHÁTTÉR MULTIMÉDIA having sent countless films, appeals, warnings, accusations to the saudi-arabian secret agencies and embassies about the hungarian prime minister and his fellow terrorist's mass murderers and apartheid crimes against humanity the saudi king Abdullah bin Abd al-Azíz Al Saud began to dream about long term political, crime and economical mafia syndicates - like the egyptian fallen mass murderer Hosni Mubarak - delegating the hungarian mass murderer prime minister to a personal meeting. Furthermore how does the saudi king explain his disastrous abatement in spite of our dumping of facts, and how does he think that he will able to avoid being put on trial in international human rights court and hanged in public like Saddam Hussein, stoning women to death being a fascist delinquent mass murderer, and his family having named the peninsula after themselves, like the romanian despot would have renamed his country to Ceausescia. HOW DID YOU DARE!

10. Does the mass murderer terrorist american saudi king agree that from now on for every woman sentenced an tortured to death in Saudi Arabia (for driving a car, or speaking in public) one american abetting saudi royal offset should be tortured, his bones crushed, mutilated, beated and shocked to death to align interactively illuminati style to the well beloved practice of the arab Guantanamo, smashing the knees used for praying into smithereens, because of terrorist liaison and the wrongdoings of his life along the practice of democratic eastern an western states.

As long as the head of the mafiafamily of Saudi Arabia, the king does not agree that the terrorists in his family should reckoned with in such a way, we would like to ask how come - when it was standard everyday procedure anywhere carried into effect against harmless civilians and the victims of american-saudi terrorism. It is so much more appropriate, that into the biggest reform of world history should come not only the wave of 1789, but the square of it. So everybody gets to know, what's on for them, who have been serving the physical and mental downfall of humanity their whole life, and stood within the darkest and grottiest hangmen of world history, like Viktor Orbán hungarian prime minister, the terrorist mass murderer Judas and fascist despotic antichrist.

Answers are welcome at +36/30/919-6386, on the address hirhatter-multimedia@gmail.com or personal meetings should be arranged.


HÍRHÁTTÉR MULTIMÉDIA
2011.10.05., Budapest (Bp.), Magyarország (Hungary)



---

Orbán Viktor 100%-ban eltussolt és a tanúkat sorozatban lemészárolt bűntetteiből: KLIKK!: 1., 2., 3., 4., 5., 6., 7., 8., 9., 10., 11., 12., 13, 14., 15., 16., 17, 18., 19., 20., 21., 22., 23., 24., 25., 26., 27., 28., 29., 30., 31.!

A Romák Elleni Állami Sorozatgyilkosság Orbán Viktor általi eltussolásáról és világhírhedtté váló újságíró-üldözéséből: KLIKK!: 1., 2., 3., 4., 5., 6., 7., 8., 9., 10., 11., 12.!

Az Orbán Viktor által teljes eltussolásra és folytatólagos szervezésre követelt, a világ minden népe és állami vezetése ellen irányuló utasszállító és katonai repülőgépek elleni tömeggyilkos robbantásos terrorcselekményekből egy csokorra való leleplezés: KLIKK!: 1., 2., 3., 4., 5., 6., 7., 8., 9.!

Az Orbán Viktor által vezetett és eltussolni próbált állami pszichiátriai kínzások, csonkítások, tömeggyilkosságok, Holocaust megbuktatásából egy csokorra való: KLIKK!: 1., 2., 3., 4., 5., 6., 7., 8., 9., 10., 11., 12., 13., 14., 15., 16., 17., 18., 19., 20.!